Weekly Newsletter
Principal's Message - The road to September 2020....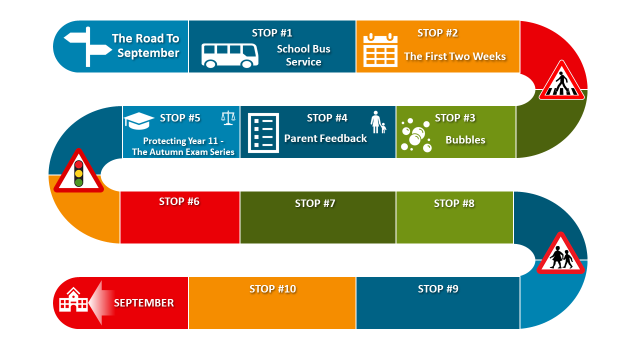 Stop #4: Parent feedback
I would like as for your feedback to help our planning for September and beyond.
Firstly, there is a lot to be learned from our online provision over the past two terms that can be very useful and indeed in some way, be part of our provision long after Covid-19 has hopefully gone. To that end, we would be very grateful if you could take time to complete our PARENT SURVEY by FRIDAY 10TH JULY 4PM.
Secondly, I am sure that you will have many questions about how the school will operate from September. In next week's newsletter, we will be publishing our draft plans for September as we digest yesterday's Government guidance for the reopening of schools.
Regardless, I'm sure there will still be questions and/or comments that you will have. There is always the option to contact us at the usual admin@readinggirlsschool.net. However, you can Tweet and follow us on TWITTER @ReadingGirlsSch. Indeed, through Twitter you will be able to see Q&A threads. It is a much better forum.
Stop #5: Year 11 Autumn exam series
Some of our current year 11 girls have anxiously being asking us this week about the media reports that a third of GCSE results are to be marked-down by exam boards across the country. The suggestion is that grades have been inflated this year compared to actual results over the past two years.
You will remember me saying at the outset of lockdown that it will not be a surprise if this happened. Indeed, OFQUAL, the exams regulator, ensured this by making it clear that grades issued by exams boards could not be challenged.
The very fact that the girls have asked us these questions this week, is typical of their commitment and dedication. However, they need not worry. All anybody can do is CONTROL THE CONTROLLABLE.
Firstly, our grades are similar to our previous two years' results. Secondly, whilst other schools around the country said goodbye to their Year 11 pupils when lockdown began in March, 91% OF OUR GIRLS REGISTERED TO CONTINUE WITH THEIR YEAR 11 LESSONS FOR THE REST OF THE ACADEMIC YEAR. The reason they did this was that if they did choose to sit the Autumn GCSE exams, then they would at least have had an extra four months of teaching to ensure they would get the GCSE grades had lockdown not happened. They are in control.
As part of our plans for September, we will be liaising with our girls and Sixth Form schools and colleges on how we will be managing the HOSTING OF EXAMS in the Autumn.
Jon Gargan, Principal