Weekly Newsletter
Principal's Message
As we reach the end of the first full week back for all students, staff and parents, I would like to share with you some of the real positive vibes that are permeating the school.
Year 7 have had a great start to their time at RGS. I would like to share some of their responses with you:
"The Explorer Week took away much of the anxiety of the move to secondary school for my daughter." Year 7 Parent.
"I've made loads of new friends." Year 7 Student
"The teachers are really nice." Year 7 Student
"We are really looking forward to the 5 year journey, after a great start for our daughter, thanks for the help." Year 7 Parent
"We are very proud of her and love to see how she is growing inches in confidence every day. We are also very impressed with your staff. In general, I think her great start is down to how you and your team simply treat students as grown-ups." Year 7 Parent
Year 8 have also started their STEM curriculum this week with a focus on Food Technology.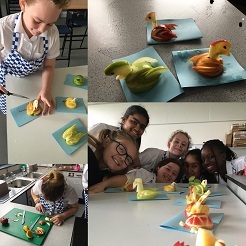 See their 'Apple Ducks'.
Year 9 and 10 have made a great start to their GCSE Options and long blocks of learning time while Year 11 have been working hard in their mini mocks.
Possibly the biggest news of all is that our 2018 summer GCSE results is likely to place Reading Girl's School inside the top 5% of best-performing schools across that country.
I would like to take the opportunity to remind you of our Open Evening Event on Thursday 27 September from 5.00pm to 7.00pm. For us though at RGS 'every day is an open day', please do come and join use, no appointment needed.
Regards
Jon Gargan, Principal
A weekly newsletter is emailed to parents each Friday. If you are not receiving it, please let us have your up-to-date email address via admin@readinggirlsschool.net
Download this week's newsletter below