Food Technology
The most important thing in food is to learn technique. A great chef is first a great technician. If you are a jeweller, or a surgeon or a cook, you have to know the trade in your hand. You have to learn the process. You learn it through endless repetition until it belongs to you. (Jacques Pepin)
Head of Department: Ms H Howells
Introduction to course
Students will learn the function of ingredients and how to adapt them to be able to produce healthy meals for themselves. They will also learn how to care for others by taking their religious, dietary requirements and ages into consideration and uderstand how to produce healthy and cost effective meals.
Subject content
KS3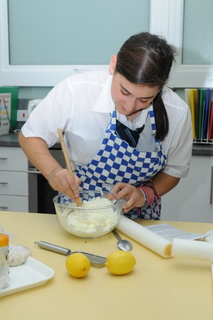 From basic to high cooking skills focusing on healthy eating and how to adapt ingredients to suit different occasions using commodities that are availalbe to them on daily basis. In Year 9, they will focus on international cuisines and learn more high level cooking with more challenging dishes in the amount of time given to them. They are also encouraged to add their own touch to the dishes based on the knowledge that they learnt in Years 7 and 8.
KS4
How to be a hygienic and confident cook in the kitchen and how to adapt ingredients to be able to produce tasty meals. They will receive demonstrations of how to produce dishes correctly with detailed explanation and why these points are important. They will be required to take notes for themselves so they can produce successful dishes for next time.
KS4 Exam Board - NCFE Food and Cookery Level2
Typical lesson activities: Understand about all aspects of cooking including ingredients, kitchen hygiene and HACCP. Each lesson, they will be given a topic of what they need to complete based on NCFE schemes of work. They will cook a dish or two in a two week timetable, though this depends on the diehes they are making. Practical lessons focus on producing high skill dishes such as various types of pastries and savoury dishes with lots of different processes and skills required.
Contact details: hhowells@readinggirlsschool.net