Weekly Newsletter
Principal's Message - Our surveys say ......
Each year in October, February and May we conduct student and staff surveys. The first one of this academic year provided very positive feedback. In addition, we identify the most common areas for improvement and act on them.
Last month we followed our survey with whole-school workshops around the concept of ambitious, challenging and independent learning. The key point, however, as you will see below, is that there were outcomes for students and staff. Of course, our girls have responsibility for their own learning but as staff, we also have responsibility to support them. Everyone is in it together.
Our classroom expectations are very high and we wanted our girls to understand that they are being challenged in class to work to their maximum which sometimes may cause pressures. Equally, as staff we must ensure that, when challenging the students, we use the correct language that depersonalizes situations.
Moreover, with regard to ownership of learning, it is vital that the girls are able to articulate what they are learning within a bigger picture. We do not want them to see a lesson's learning in isolation. They need to be asking themselves about the relevance of their learning and how it links to previous and future learning. Again, as staff, we need to ensure that we are helping them articulate their learning experiences so that they are more meaningful.
November's whole-school workshop learning outcomes: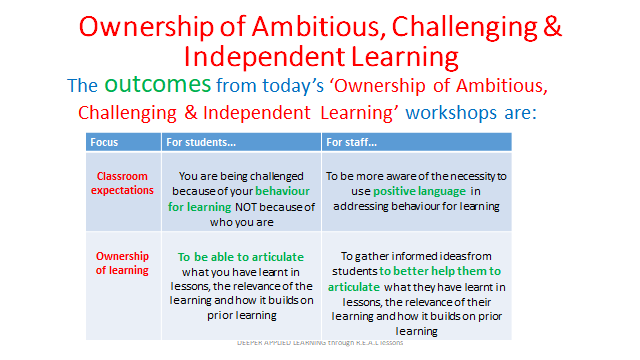 Key headlines from our survey
Student responses
94% of students feel safe at school
96% of students reported that they know how to keep themselves safe online
80% of students report that L.E.A.R.N is used consistently by teachers across all their lessons
93% of students report that the school has clear expectations and routines for all pupils to follow
85% of students reported that they are aware of aims and objectives of what their group needs to have achieved by end of this term in their PLEDGE lessons
85% of students reported that the school encourages them to respect people from other backgrounds and to treat everyone equally
71% of students reported that their lessons are REAL on a regular basis
77% of students reported that they are aware of Active Learning activities during their lesson
79% of students reported that they receive talking tokens
85% of students report that they are randomly selected to answer questions in class
Staff responses
93% are proud to be a member of staff at Reading Girls' School
100% of staff reported that the behaviour of students at Reading Girls' School is GOOD
82% of staff reported that leaders use professional development to encourage, challenge and support teachers' improvement
82% of staff reported that leaders do all they can to ensure the school has a motivated, respected and effective teaching staff
84% of staff reported that leaders have created a climate in which teachers are trusted to take risks and innovate in ways that are right for the pupils
100% of staff reported that Reading Girls' School has a culture that encourages calm and orderly conduct and is aspirational for all pupils
94% of staff reported that Reading Girls' School challenges all pupils to make at least good progress
95% of staff reported that Reading Girls' School is well led and managed
81% of staff reported that they are treated fairly and with respect at Reading Girls' School
88% of staff reported that they enjoyed working at Reading Girls' School
Jon Gargan, Principal