Weekly Newsletter
Principal's Message: Beyond the classroom.
This week we had the pleasure of hosting several visitors to Reading Girls' School both for STEM (Science Technology Engineering Mathematics) and for our Religious Education (RE) day, with opportunities for students also to explore Personal Development. Students were able to engage with members of our community from different faiths, as well as explore issues such as Friendships, Goal Setting, and Exam skills. Our student anti-bullying and friendship ambassadors were also responsible for organising and running workshops, encouraging students to consider, through role plays, the
A running theme was how impressed our visitors were in respect to how students conduct themselves and engage with the activities. It was a pleasure to read from one of our guests how much they enjoyed visiting the school and meeting the girls. He stated: "…such a great feel and culture within which to learn – 'no one locked out' – I loved that. We instantly felt welcomed and thoroughly enjoyed engaging with the teams. We learned a lot from it but it was fun learning!"
This week we continue with celebrating the diversity in our community with our annual Cultural Celebration Day on Friday 22 October. Students may come into school in cultural dress or in the colours of their flag. Students are welcome to wear their school uniform if they prefer.
We are in our final week for Open Mornings, on Tuesday and Thursdays, which have been very popular. Our students have, as always, been excellent ambassadors for the school, showing prospective parents around. Every single parent has been impressed with how the guides have conducted themselves, and their ability to speak so enthusiastically about their school.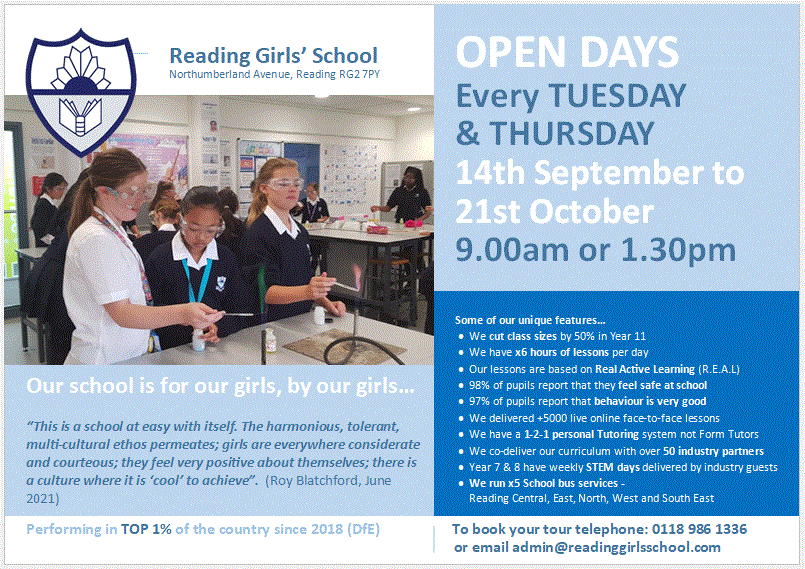 As part of our precautionary measure to help prevent the spread of Coronavirus we have cancelled our Year 7 and Year 8 information Evening. We will however explore a way of inviting parents in after half term. We continue to be in touch with Public Health to ensure we are following the correct measures. The advice we have been given is as follows:
Encourage at least twice-weekly Lateral Flow Device (LFD) home testing for all staff and pupils.
Social isolation for anyone who tests positive until they receive a negative PCR test result.
Daily LFD testing for all close contacts or household contacts for anyone waiting for a PCR result.
Ensure good ventilation.
Promote good hand hygiene.
In line with this if a member of the family does test positive, please do ensure that close contacts undertake daily LFD tests. Also please make sure that your child is testing using a Lateral Flow test every Sunday and Wednesday and report each result using the link below.
Students Test Result Reporting Link
If your child tests positive please notify NHS Track and Trace and self-isolate. Students will need to take a PCR test within 2 days and if they should test negative they may return to school; if not they are required to self-isolate for 10 days. While students are isolating they will participate in our online hybrid lessons, to enable them to continue with their learning.
Finally, a polite reminder that all bikes/ scooters are left at the owners risk (in the bike rack). Your child should lock their bikes and scooters for security.
Marika Farrugia, Principal