Personal Development Days
Personal Development Days are a strand of Personal Development and are run entirely by external providers who are experts in their fields and are best placed to ensure the lessons are relevant and engaging for our pupils.
The Personal Development programme has been developed to reflect the needs of our pupils, aiming to equip them with a sound understanding of risk together with the knowledge and skills necessary to make safe and informed decisions. Furthermore, the programme builds on the statutory content already outlined in the national curriculum, the school curriculum and the statutory guidance on aspects such as drug education, financial education, sex and relationship education (SRE), careers advice and support, together with the importance of physical activity and diet for a healthy lifestyle.
Within this programme students are also encouraged and challenged to accept and be engaged with the fundamental British values of democracy, the rule of law, individual liberty and mutual respect and tolerance of difference such as those with different faiths, beliefs and sexuality.
Learning on these days is equally important to the academic curriculum. We do not just want the girls to be entertained. A key objective of the day is that they identify and reflect on what they have learned. Indeed, in some cases, we have arranged follow-up meetings for some girls with companies because it has triggered a career interest. You can see below an example of 'PD day reflection journals' from the December 2019 PD day at which the Reading East MP, Matt Rodda delivered a session.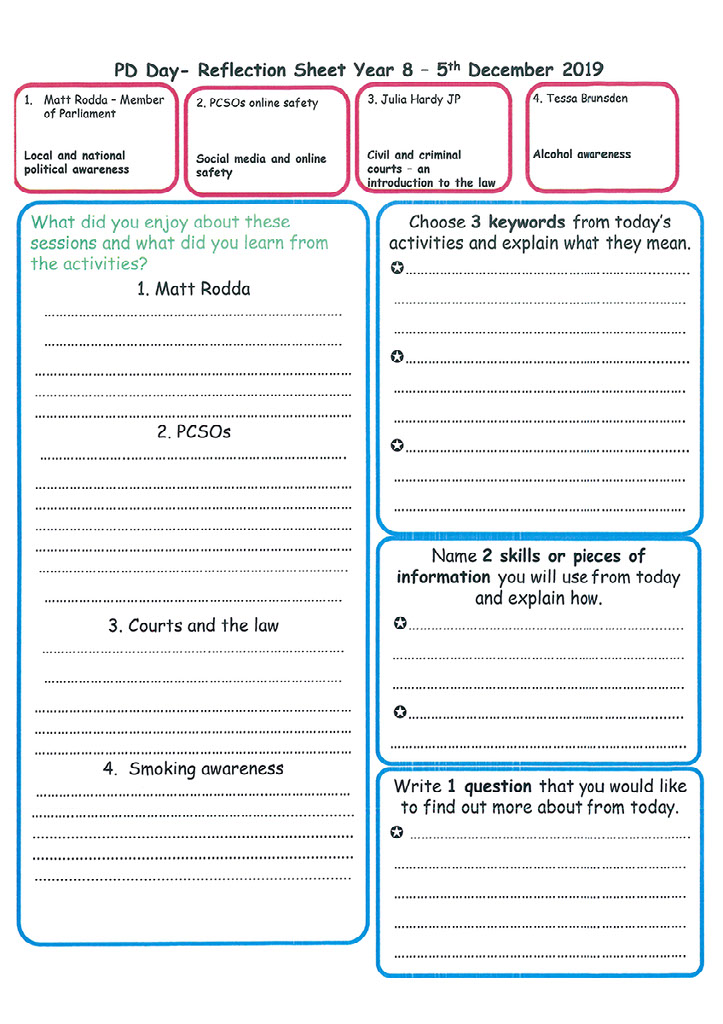 SIGNIFICANTLY, the feedback that we receive from our guest deliverers is extremely positive. We ask for formal feedback from each deliverer. Below are some examples from December 2019 PD day to share with you. The irony is that each one is an indication of the good citizens that our girls are. Our guests speak very highly of them and it is a justification in itself for WHY WE DO WHAT WE DO in our delivering personal development curriculum.