Music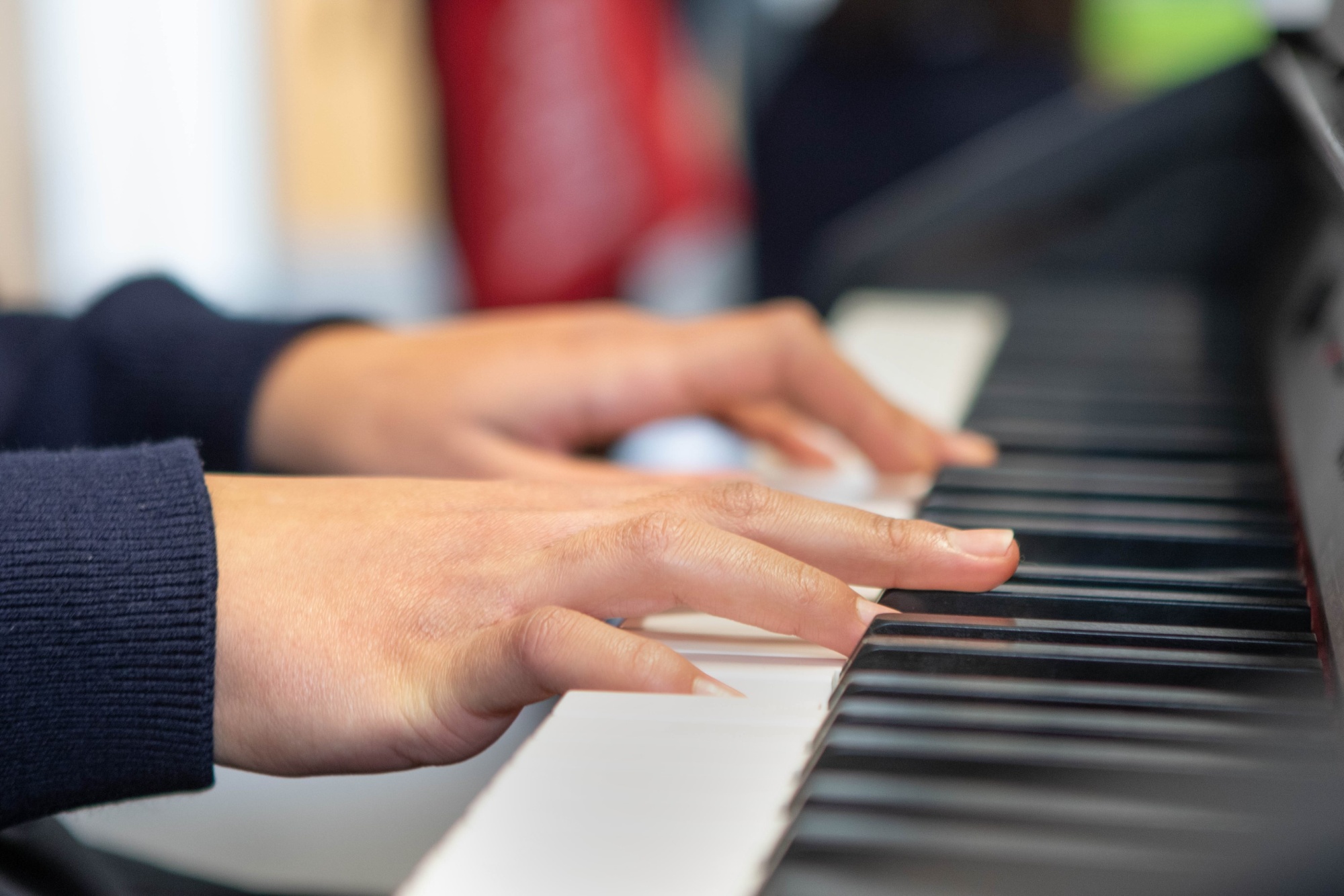 Music
Subject Leader: Mr David Jones
To give the students a lifelong love of Music and the arts, which will see them pursue careers or hobbies in a creative field.
By the end of KS3, students should have experience on a variety of instruments and technologies, which will prepare them for KS4 whilst allowing them to find something they love doing.
By the end of KS4, students should have the opportunity to explore technology and their chosen instruments in various musical genres & contexts, whilst being able to utilize analytical skills to enable them to pursue music in KS5 and beyond.
Key Stage 3 Content
Music is taught twice a fortnight in KS3.
Each unit is either 6 or 7 weeks
Topics studied
| | |
| --- | --- |
| Year 7 | Year 8 |
| The Elements of Music | Blues & Rock n Roll |
| Instruments of the Orchestra | African Drumming |
| Ukulele 1 | Ukulele 2 |
| Music Production 1 | Music Production 2 |
| Music in the Media | Pop Music |
| Musical Futures 1 | Musical Futures 2 |
All pupils will learn about different styles of music using instruments and computer technology. They will understand the features of the styles explored and be able to:
Listen to, identify and perform key features of different musical styles
Aurally identify different styles of music
Use the features of the musical styles to perform and compose songs
Assessment
Each unit is assessed in a solo or group performance along with an individual listening test.
Homework
This consists of various Independent Learning Projects (ILPs) throughout the course of the year. The students are given the opportunity to choose a task, which is either a recording of a performance they have learnt, or a PowerPoint presentation showing research of a topic they have explored.
How Parents and Carers Can Support
Encourage your child to ask teachers for help if there are any difficulties
Encourage your child to listen to a variety of styles of music at home
Encourage your child to show you what they have been learning in class
Encourage your child to attend any after-school extra-curricular activities
Additional Support Available/Useful Links
Reading List
Forming a Band (Paperback)
Recording and Promoting Your Music (Paperback)
The Impact of Technology in Music (Hardback)
Years 9, 10 & 11
Exam Board
Pearson BTEC – Tech Award Level 1 / 2 in Music Practice
Qualification number: 603/7055/5
Content
This specification enables learners to develop knowledge and understanding of music through 3 interrelated components:
Component 1: Exploring Music Products and Styles
Component 2: Music Skills Development
Component 3: Responding to a Commercial Music brief
The specification has three components based on the skills of performing, producing, composing and appraising. An integrated approach to these skills is encouraged through each component and serves to highlight the importance of the relationship between composer, performer and audience. Knowledge and understanding of each component is assessed explicitly in Component 3.
Component 1: Exploring Music Products and Styles (teacher assessed 60 marks)
In this component, learners explore several genres of music and create video demonstrations of specific features, showing their understanding of the styles on their own instrument.
Component 2: Music Skills Development (teacher assessed 60 marks)
In this component, the students will learn about the necessary skills needed to work effectively in the music industry. They will learn how to practice their instruments properly, identify their strengths & weaknesses and set goals to improve. They will be assessed on their ability to play their instrument, use music technology computer programmes, and track their progress through a series of video recordings.
Component 3: Responding to a Commercial Music Brief (externally assessed 60 marks)
In this component, the students will use the knowledge they have gained in the previous 2 components to respond to a commercial music brief set by the exam board. This could be performing a song in its original genre of music, and then replaying it in a different genre. It could also be mixing a song on computer music software in a different genre from the original. It is designed to test the students' understanding of the genres covered and techniques used in these genres.
Homework
It is extremely important in this course to keep on top of all homework. This course is very practical and will require several video examples - all to be recorded in lessons and uploaded as homework. Other forms of homework will involve instrumental and music production practice to allow the students to keep developing in their music practice.
How Parents and Carers Can Support
Encourage your child to ask teachers for help if there are any difficulties
Encourage your child to listen to a variety of styles of music at home
Encourage your child to show you what they have been learning in class
Encourage your child to attend any after-school extra-curricular activities
Additional Support Available/Useful Links
Reading List
Forming a Band (Paperback)
Recording and Promoting Your Music (Paperback)
The Impact of Technology in Music (Hardback)