Parents
Dear Parents
At Reading Girls' School we work in partnership with parents and carers so that our students achieve the very best they can. Progress reports are issued throughout the year, giving information on each child's achievement, attendance and attitude towards learning. For parents and carers of students in Years 8, 9 and 10, one Consultation Evening per year is held to enable parents and carers to discuss their child's progress and set targets for the year. For Years 7 and 11, there are two such evenings. There are also regular information evenings for parents and carers on other important aspects of education.
On entering the school, all parents/carers and students are asked to sign the Home-School Agreement, which was devised jointly by the staff, governors, parents and students.
The school publishes a bulletin for parents on the website every week, and a full newsletter every half-term, both of which contain a wealth of information about school life. All parents receive an email alert to let them know that the news is ready to read, and we have paper copies of the newsletter available for parents who let us know that they do not have internet access.
Parents can find background information on every aspect of school life here on the school website as well as all relevant school policies.
School Gateway APP now available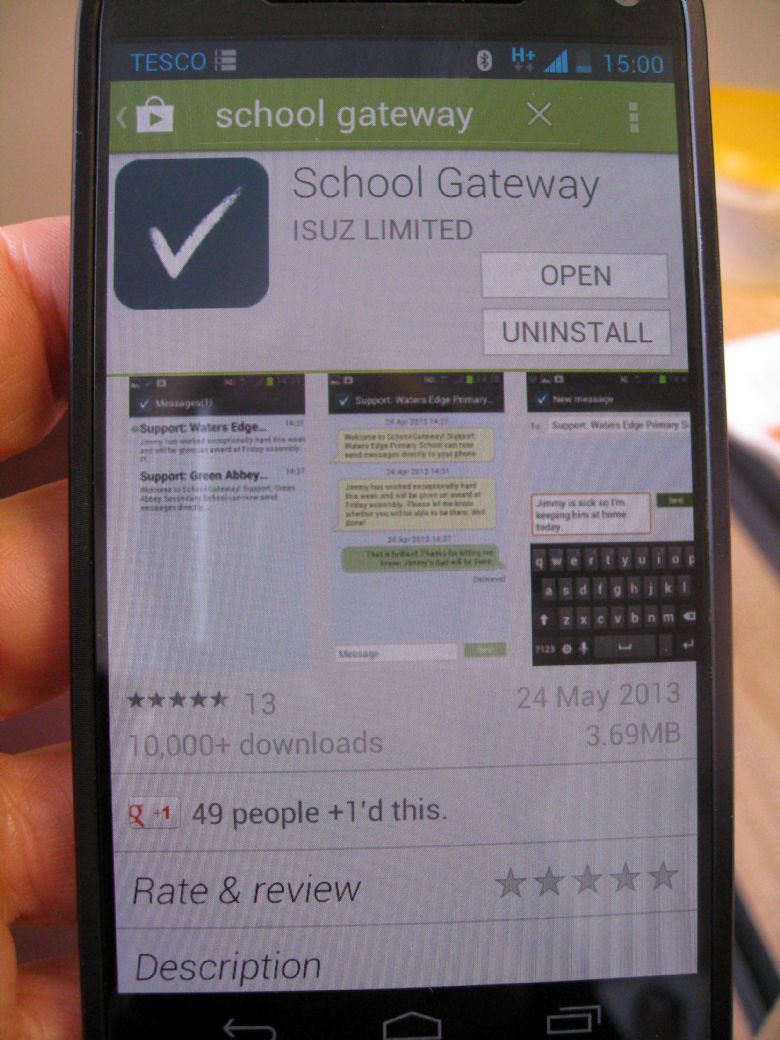 Text Messaging System
We occasionally need to send information to parents via a text message to your mobile phone. Please follow the steps below in order for you to access this:
Search for "School Gateway" in the Apple App Store/Google Play or on your phone go to www.schoolgateway.com/apple (Apple) or www.schoolgateway.com/android (Android)
Install the app and if you are asked then say yes to "Allow Push Notifications"
When you launch School Gateway for the first time, please select 'New User' and enter the email address and mobile telephone number you have registered with the school
The system will send a PIN code to your phone; please enter this PIN code and the app will be activated for you. As soon as you've got the system set-up, all of the text messages we send you will appear in the app; you'll receive notifications/alerts as normal. If you would like to find out more click here
If you've recently changed your email address or mobile telephone number, please let us know so we can update our records. Thank you for your help.
Courtesy to Local Residents
Please remember when delivering or collecting your daughter that you should respect the law and normal courtesy with regard to parking and driving. Please do NOT park on dropped kerbs, or double park, and do remember that Northumberland Avenue is a bus route, and inconsiderate parking can cause problems for residents and bus drivers. If you must use a car, why not arrange to park a little further away from the school and ask your daughter to walk a little way rather than expecting to be dropped off/picked up directly in front of the school?
An Easy Way To Raise Funds

Do you shop online? Did you know that every time you buy something you could be raising money for Reading Girls' School?
That's right - over 3000 well known retailers including Amazon, M&S, Boden, Waitrose, House of Fraser, Vodafone, Virgin Atlantic and many more, will donate a percentage of what you spend to Reading Girls' School when you shop with them, via http://www.easyfundraising.org.uk/causes/readinggirls
It's like nectar but instead of earning points, each purchase generates a donation. So instead of going directly to a retailer's website, go to easyfundraising first and choose the retailer you want to shop with – then everything you spend with that retailer earns a free donation for Reading Girls' School. It's completely free to use and your shopping won't cost you a penny more.
On average, each retailer will donate 5% of the cost of your shopping - and those donations soon mount up.
So whatever you need to buy, from your weekly grocery shop or fashion must-have, to your business travel, office supplies or mobile phone, buy it via easyfundraising and raise money for Reading Girls' School at no extra cost to you!
Please register to supporting us when you shop online - http://www.easyfundraising.org.uk/causes/readinggirls
Download the Easy Fundraising tool bar or just add the link to your existing toolbar to remind you to use the service.
Thoughts and views from parents are very important to us. If you have anything you would like to discuss, please do not hesitate to contact us.