COVID-19 (Coronavirus) Latest Information
We are continuing to keep you updated on the government's response to COVID-19 (Coronavirus).
"WHEN DO I NEED TO CONDUCT MY HOME TEST?"
To help us coordinate the home testing programme, I would be extremely grateful if the tests are conducted on MONDAY and THURSDAY EVENING TIMES on the dates below. The results should be reported as soon as possible and no later than Tuesday for tests conducted on Monday and Friday for tests conducted on Thursday using the following link: Report your self-testing results to school.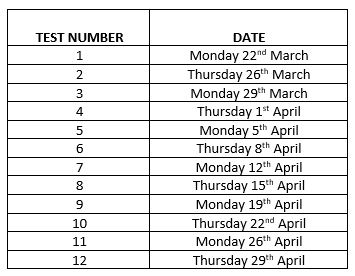 Department for Education coronavirus helpline
The Department for Education coronavirus helpline is available to answer questions about COVID-19 relating to education and children's social care. Staff, parents and young people can contact this helpline as follows:
Phone: 0800 046 8687
Opening hours: 8am to 6pm (Monday to Friday), 10am to 4pm (Saturday to Sunday). Where to find the latest information:
Updates on COVID-19
Guidance for educational settings
Latest Department for Education information